Do you find yourself scrolling through a search engine looking for 'assisted living facilities near me' and just feel like you are faced with an overload of information? Are you scouring website after website and feel like you're getting nowhere? Truth be told, there are likely several different communities that you can choose from. However, it is important to note that senior assisted living facilities are not one size fits all. 
Making the transition into a senior living community can already come with some heavy feelings and difficulties. That is why you need to find a place that you can really connect with and envision as the perfect home for yourself during your golden years. In this blog, we are going to explore the key characteristics of the best senior living facilities and what you should keep in mind while you are browsing. 
1.) Fun Activities
Your golden years aren't supposed to be boring! You just spent the last forty or so years of your life working in a career, raising a family, and maintaining a home. That is a lot of stress, to say the least. Now is the time to relax, enjoy the hobbies you love, and even learn something new if you like. 
Here at Oakleigh of Macomb, we are proud to offer our residents a wide range of activities each week on our community event calendar. Board game nights, musical performances, movie nights, group exercises, outings, and so much more! Variety is the spice of life and we want our residents to have fun and enjoy where they live. 
These activities also provide ample opportunity for residents to make new friends with each other and cultivate healthy relationships. Humans thrive around other humans, and seniors are no exception to that rule! When scoping out a senior living community, be sure to choose one that is focused on creating a fun and active environment. 
2.) Location, Location, Location!
Just like when choosing where to buy a home, the location of the assisted living community matters. First of all, consider the current proximity to family and friends. Do you want to stay in the same city or even the state? Or are your loved ones willing to travel to meet you if you relocate? This should be the first factor in your decision.
Secondly, consider how close the senior living community is to other important locations, such as shopping, dining, and medical care. When taking a closer look at our community, we certainly have a few reasons why you would love Macomb, MI. This includes an affordable cost of living, a family friendly environment, and of course, lots of recreational activities!
3.) Good Vibes
When looking at assisted living facilities near me, you are choosing your next home. When you walk in the door, you want to feel welcomed right away. If upon your initial visit you get 'bad vibes' or an overall sense that the place isn't what it seems, definitely turn right around and continue your search elsewhere!
Senior communities should be a warm place, with friendly, caring staff and residents who appear to really enjoy their time there. Don't be afraid to ask the staff questions, and if you can, speak to current residents as well. They will give you a real feel for the community as a whole.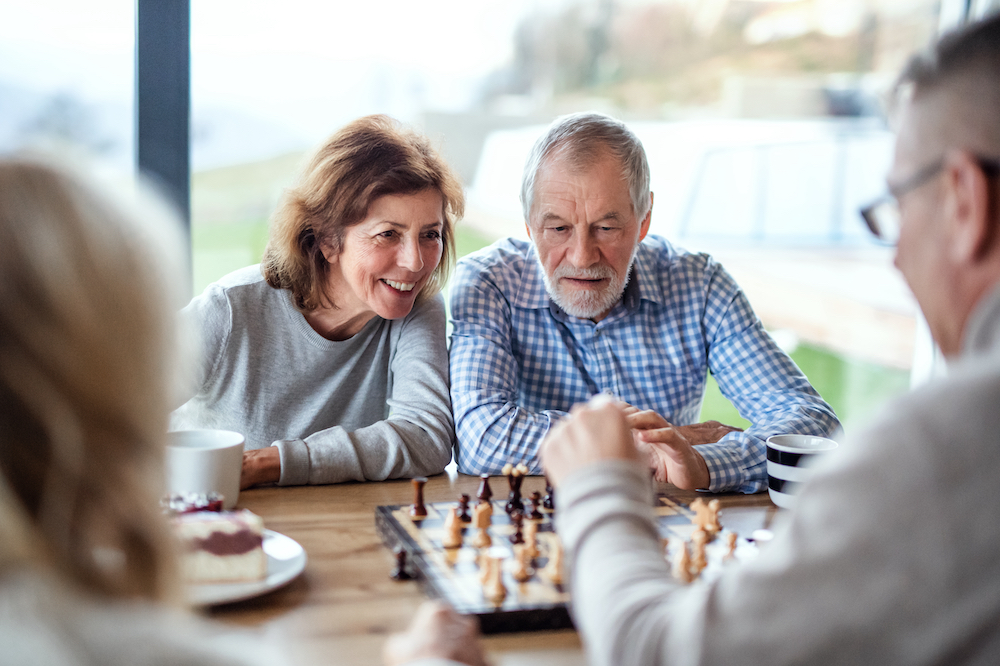 4.) Clean and Comfortable Environment
Just like you can't judge a book by its cover, it's important to look beyond the main foyer or front entrance of the senior home that you are touring. These areas are generally kept the cleanest since they see the most amount of guests and foot traffic. However, while touring the facility, be sure to take a closer look around.
For example, when passing through common areas such as the dining room, sitting rooms, or hallways leading to private residences, take note of the cleanliness and upkeep. Is the floor swept and mopped? Are things generally kept pretty tidy and picked up? Are the common tables wiped down and free of residue and crumbs? 
Another thing to consider: is everything easily accessible? If you have any mobility issues, you want to make sure that the facility you are touring is able to accommodate any types of needs you may have. 
5.) Special Amenities
Prior to beginning your search, you need to consider a few special amenities that you might want out of the assisted living facilities near me. For example, do you want a place that is pet friendly so you can bring along your furry best friend? Or do you want it to have a library that you can frequent to borrow books? What about maybe an outdoor pool where you can swim and relax in the summer?
Whatever that list looks like for you, don't compromise! Those things are clearly quite important to you for one reason or another, and you deserve to get the best out of your assisted living community. 
Here at Oakleigh, we have a host of special amenities that we are proud to offer our residents. Some of these include the following:
Pet friendly community

An on-site salon and spa

Restaurant-style dining experience

Weekly housekeeping and maid service

Weekly personal laundry and linen service

On-site health and wellness

Scheduled car and shuttle services to appointments

Weekly shopping trips and other outings

A bistro and bar
Of course, these are just to name a few! You can visit our website to read more about what we offer in depth. 
Contact Us Today
We understand that transitioning to a senior living community is a big decision. Odds are good that you have been having many conversations at length with your loved ones prior to making that choice. That is why we want you to be as prepared as possible while touring different communities and seeing what is out there.
No matter what you decide, just don't compromise on what you want! The perfect fit is waiting for you, and we hope you will choose Oakleigh of Macomb. To get started and take a tour of our beautiful community, please contact us today!