Engaging in mental activities is equally important as physical exercise when seniors grow older. They need to keep their brain active and stimulated, especially older adults with dementia. One way to do that is to get them to participate in brain games.
According to studies, dementia patients need regular mental stimulation and training to slow the pace of memory loss and other dementia symptoms. Furthermore, this enhances a senior's cognitive abilities and even puts a stop to gradual mental decline.
Dementia assisted living facilities provide fun and engaging brain games for their residents. Take inspiration from their programs so your senior loved one or patient can stay mentally active. Here are eight exciting brain games that you can try with your loved one!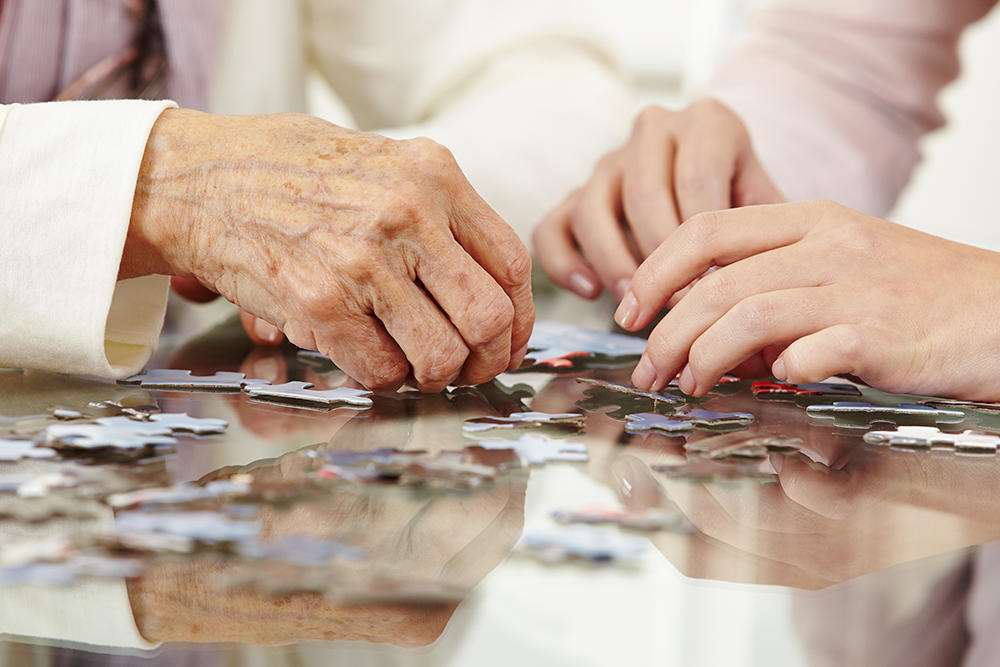 1. Puzzles
Puzzles are a popular game for older adults in senior living during happy hour. It's both easy and enjoyable, which is why it's also a perfect activity for seniors with dementia. 
Whether it's a word search or jigsaw type, puzzle games provide good stimulation for the mind. Plus, it's a contemplative type of mental activity and not highly competitive, allowing players to take their time and keep calm while playing.
However, there are a few factors that you need to consider when introducing this game to your senior loved one. This includes:
Choose a puzzle game that suits the senior's cognitive capabilities.

Consider their interest and the specific skills they have.

Make sure to buy puzzles that have large texts and dementia-friendly features.
2. Board Games
Another classic game that your elderly will surely love and might even bring them back to the good 'ole days are board games. 
Besides stimulating the brain, this type of game can entertain seniors and allow them to socialize with other people. Most board games have multiple players, providing seniors the chance to interact with fellow adults and even grandkids.
Just make sure to pick board games that don't have complicated rules and mechanics. Instead, stick to simple ones that can easily be played and understood by dementia patients. Some examples include:
Scrabble

Snakes and Ladders

Big Letter Bananagrams

Call to Mind
3. Card Games
Besides Scrabble, another fun game to play during game nights or Sunday BBQs are card games. Seniors with dementia will surely love it since most card games have much simpler rules than their board counterparts. But this does not make them any less challenging or fun.
Furthermore, there are various types of card games to choose from based on the kind of skill you want your senior loved one to enhance. For example, there are card games that can improve their memory, develop critical thinking, or enhance concentration skills.
Some of the popular cards you can easily buy online or in your local store are as follows:
UNO cards

Bingo

Go Fish, Poker, Blackjack, Crazy Eights, and Hearts using a deck of cards.
You can even invent your own simple game using a deck of cards, so your loved one won't get intimidated or overwhelmed. For example, you can play a connection or matching game based on the cards' color, number, or symbol.
4. Logic and Trivia
Many caregivers in dementia assisted living facilities use logic and trivia games for mental stimulation and entertainment. This kind of game specifically enhances the brain's cognitive abilities and improves memory skills—all of which can help seniors battling dementia.
Additionally, you don't have to spend a single penny to organize a trivia game night. A simple Google search can reveal hundreds of trivia questions that they can relate to. 
For logic games, you can try some senior-friendly logic puzzle books, brainteasers, and other educational materials.
5. Sudoku
If your senior loved one had extra fun with logic games and wants something more challenging, then you can try introducing them to Sudoku. This brilliant game can definitely stimulate the mind to think, solve problems and work on patterns. Plus, it's a game for everybody, which means that seniors and grandkids can both play this game and have fun!
Aside from the mental stimulation, accomplishing a sudoku puzzle also helps boost the self-esteem of your loved one. Just remember to guide them first on the game's rules and show them how it's done.
6. Lumosity
Are you looking for a senior-friendly and convenient brain workout? Then why not try scouring the internet for digital games and apps to help your senior loved one become mentally active. One such game app is called Lumosity.
This subscription-based app features a wide array of cognitive games and tests that can enhance the different areas of your cognitive abilities. For example, they have games that can develop your processing speed, memory, vocabulary, attention, problem-solving, and math skills. Plus, the app can track your progress and evaluate which brain training area you excel in.
If your senior loved one enjoys using smart devices and viewing digital content, then Lumosity is worth giving a try.
7. Other Digital Games
The internet is full of online games and apps that you can use to help keep your loved one mentally active. These fun and interactive digital games can improve seniors' memory and help with their battle against dementia.
Furthermore, having it easily accessible on your smartphone makes it convenient for them to play it anytime they want. 
For instance, you can download a bunch of crossword puzzles from a website, a Scrabble app, or a poker game. Other brain training apps like Lumosity are:
Duolingo

Colorfy

Cognito

Peak

Elevate
Check them out and see which one your senior will love the most. Caregivers in dementia assisted living facilities can also let residents engage in digital games through the facility computers or the seniors' own smart devices.
8. Chess
Seniors who are currently at the early stages of dementia can try playing chess games during their spare time. A chess game can enhance their focus, problem-solving skills, and strategic planning, all the while having fun.
Just make sure to guide them through it and coach them a little bit on the rules and moves of each piece.