Aromatherapy involves using essential oils extracted from plants to promote well-being and address various health concerns. The practice has garnered increasing attention for its wide-ranging benefits across different age groups and lifestyles. When used safely, aromatherapy can offer relief from a number of physical and mental health ailments.
While aromatherapy holds great potential for enhancing well-being for anyone, its impact on seniors is especially noteworthy. If you're seeking "senior housing near me" in the Detroit area, consider a community like Oakleigh of Macomb that understands the power of personalized care – including aromatherapy – for memory care residents.
To discover how aromatherapy can significantly improve the lives of your loved ones, stay tuned as we unveil the soothing powers of these natural scents.
Benefits of Aromatherapy for Seniors
#1.) Enhanced mood and memory.
When it comes to memory care residents, aromatherapy can be a valuable addition to their daily routines. Research suggests that certain scents can trigger memories, improve mood, and enhance cognitive function.
Inhalation of lavender, rosemary, sweet orange, and sage have all been associated with a positive impact on mood. They also have the potential to relieve depression and depressive symptoms arising from chronic conditions, such as dementia. 
#2.) Stress reduction.
For those diagnosed with Alzheimer's and dementia, the changes that occur can bring about new stressors. Scents like lavender and chamomile have been found to decrease levels of depression, anxiety, and stress in older adults. Their calming properties can create a more peaceful and relaxed environment, and even help get restful sleep.
If you frequently search for "senior housing near me" in pursuit of a calm and peaceful environment, look no further. In addition to welcoming innovative approaches to memory care, such as aromatherapy, Oakleigh also offers incredible amenities designed to help our seniors relax, including our soothing on-site salon and spa.
#3.) Improved sleep.
Quality sleep is essential for overall health, especially for seniors. Aromatherapy can aid in improving the sleep patterns of memory care residents. Certain scents can help promote relaxation and better sleep quality, leading to more refreshed and energized residents during the day.
Research shows lavender and cedarwood helps those with insomnia get more restful sleep, while reducing the feeling of sleepiness after waking the following day. Though research is lacking on the use of bergamot and chamomile oils alone, the two have been shown to be effective for improved sleep when combined with other oils or sleep routines, such as pairing aromatherapy with music.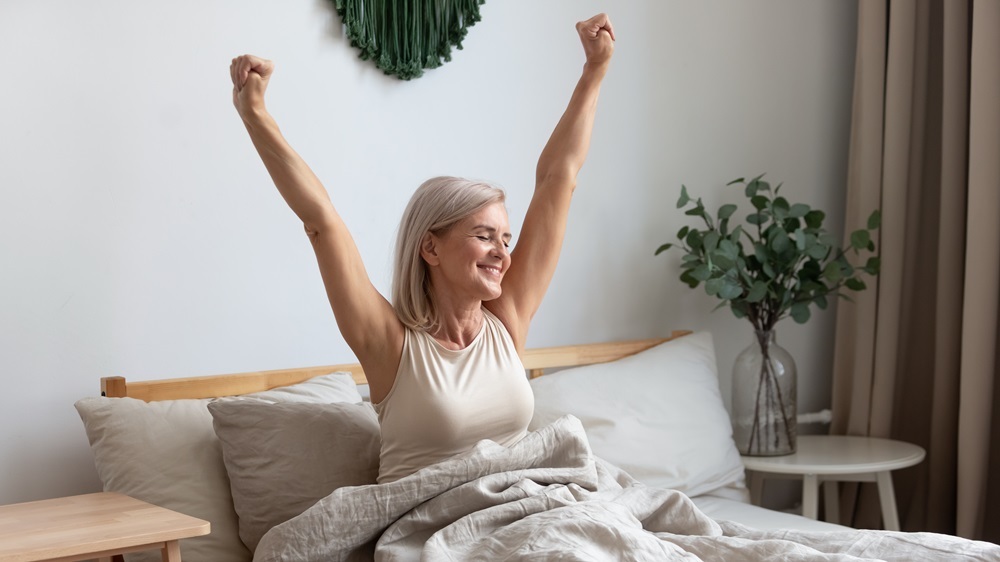 #4.) Enhanced cognitive function.
Aromatherapy can potentially enhance cognitive function in memory care residents. Essential oils such as rosemary and peppermint have been linked to improved alertness and mental clarity. These scents can be incorporated into daily routines to stimulate residents' cognitive abilities.
Rosemary specifically has been found to possibly enhance the ability to remember events, as well as keep future tasks in mind. As dementia progresses, those living with the disease may lose track of the date or forget important events. Because of this, rosemary oil can be a powerful tool to add to a loved one's personalized care plan to preserve these functions as long as possible.
#5.) Emotional well-being.
Aromatherapy can also have a positive impact on the emotional well-being of seniors in memory care communities. For those living with dementia, the difficult emotions that accompany changes in cognitive functions and abilities can be heartbreaking – and challenging to treat. 
However, research has found that oils like lavender,  lemon, and bergamot, are known for their mood-lifting properties. By using these scents, we can help suppress aggression and agitation among memory care residents and create a more cheerful and optimistic atmosphere.
#6.) Pain relief.
Some essential oils can assist with physical ailments. Peppermint oil can relieve symptoms of irritable bowel syndrome (IBS) when taken in a capsule while applying it topically can help with minor headaches. Some scents have also been found to assist with clearing sinuses, managing pain, and soothing sore joints. 
If your loved one in memory care is having trouble finding relief for minor pain and discomfort, talk with them and a trusted provider about which essential oils may offer relief, depending on the ailment or area of the body they'd like to target.
Types of Aromatherapy Products
Aromatherapy offers a diverse array of products to cater to individual preferences. From soothing lotions and aromatic candles to convenient diffusers, pure essential oils, and even indulgent bath bombs, there are various options available for integrating the therapeutic benefits of aromatherapy into the daily routines of our memory care residents at Oakleigh of Macomb. Each of these products plays a unique role in creating a soothing and comforting environment, promoting relaxation and overall well-being.
Find Memory Care Senior Housing Near Me
At Oakleigh, we are committed to providing the best possible care and support for our vibrant community. If you've been searching for "senior housing near me" in Detroit and are interested in a senior living community that offers comprehensive memory care with innovative approaches, look no further than Oakleigh.
We believe a dementia diagnosis is similar to a fingerprint; it's unique to each person and family. It leaves a different impression on us all. Our memory care team is here to walk with you on this journey with joy, purpose, partnership, and confidence.
We combine traditional therapies with practical everyday approaches to help our memory care residents become the best version of themselves. With our restorative program, we focus on five principles that support and coach each resident to achieve their greatest potential. And all with their own individual plan supervised by an on staff care partner!
To learn more about our memory care programs, amenities, and services, please contact us today. We are here to provide compassionate care and support to your loved ones in a vibrant and nurturing environment. Aromatherapy is just one of the many ways we strive to enhance the lives of our residents and create a warm and welcoming community they can call home.