It is no secret that Michigan winters can get very harsh and cold. This is especially true considering the cold snap that has swept the country the past few weeks. For residents at the retirement communities near me, this can be very concerning, as sub zero temperatures and polar wind chills are no laughing matter. That being said, it is important to do everything you can to make sure that you are prepared, as winter weather can be notably dangerous for older adults. 
Here at Oakleigh of Macomb, our team has compiled a quick list of helpful winter safety tips you won't want to miss. Continue reading to learn more and feel prepared for the snowy season!
1.) Dress Properly for the Weather
While it is highly advised to stay indoors during the worst brunt of the cold front, if you do have to venture outside, make sure you are prepared to do so. Bundle up in proper layers, including a heavy coat and sweatshirt. Accessories such as knit hats, warm gloves, and thick socks are also a must. If there is snow on the ground, invest in insulated boots for an additional benefit. In the even that your clothes get wet while you're out and about, make sure to change into something dry as soon as you can.
Even if you are indoors, it is vital that you stay dressed accordingly. Sweatpants, hoodies, comfy socks, and slippers are all great for staying warm. If you are a resident at one of the retirement communities near me and you feel cold in your apartment, take the time to talk to a staff member. There could be an issue with your furnace and they need to know right away.
2.) Prevent Slips and Falls
Ice and snow can increase slips and falls for people of all ages. For seniors, these types of weather conditions can be even more dangerous. According to the Centers for Disease Control, falls are the number one cause of accidental death in the United States for those aged 65 years and older. If you live at home, ask a family member or caregiver to assist you with salting walkways and shoveling snow. Residents of retirement communities near me can rest assured that maintenance staff will get that taken care of for you. 
The danger can be brought inside, too, in the form of wet boots and shoes leaving melted snow on tiled flooring. Remove shoes by the door to prevent creating slippery floors throughout the house. Be prepared to wipe up any water in the process in an effort to avoid slips and falls. 
3.) Prepare Your Home for Winter
For seniors who still live at home, you want to take the steps necessary to properly winterize your home. This includes making sure that all the weather stripping and caulking around windows and doors are up to date, preventing drafty winds from coming in. Roofs and guttering should also be free of debris. You need to also understand how to cover outdoor spigots to keep pipes from freezing during winter. 
Also, don't be afraid to ask friends and family members to check in with you frequently during the winter. Should you face a power outage, or be at risk for a power outage, ask to stay with a loved one. Blizzard conditions can cause outages and other issues in an instant, so it is best to be prepared well in advance.
4.) Create an Emergency Plan
While no one ever wants to think about the worst possible situation, it is important to be prepared in the event of an emergency. This includes working out a plan with a caregiver or a loved one in the face of multiple scenarios. For example, if there is a blizzard or heavy snow in the forecast, make sure you have stocked up your medications and extra food stores. Create a list of contact numbers that can be easily accessed during an emergency. Provide contact information for loved ones, doctors, and other emergency services.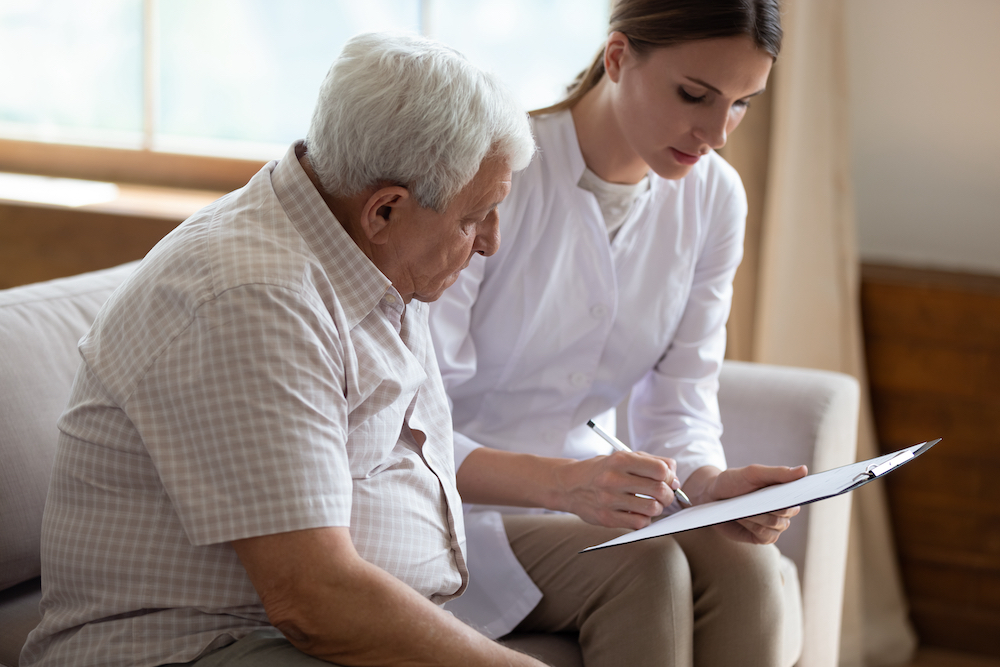 5.) Drive Safely
Driving safely during winter weather is especially important considering how quickly snow, sleet, and rain can make road conditions hazardous. Prepare your car in advance to ensure that you are ready for winter weather. This includes getting your tires rotated, putting on new windshield wipers, and double checking that all of your lights are functioning the way they should. 
For caregivers who frequently transport their senior loved ones, it is important to do all of these steps as well. On top of that, include an emergency kit stocked with the essentials into the trunk or backseat of your car. Pack items such as extra batteries, blankets, pillows, a flashlight, granola bars, and water bottles. If you become stranded on the side of the road for any length of time, you are prepared to stay safe and warm before help can arrive.
6.) Know the Signs of Hypothermia
Last but certainly not least, every senior and caregiver should understand the signs and symptoms of hypothermia. Remember: hypothermia can set in after only just a few minutes. Should your body temperature reach below 95 degrees fahrenheit, you could be up against liver failure, heart attacks, and more. A few early signs of hypothermia include:
Cold feet and hands

Swollen or puffy face

Pale, pallid skin

Uncontrollable shivering

Slurred speech or words

Drowsiness / sleepiness

Anger and confusion
Should you or anyone else you know start experiencing these symptoms, call 9-1-1 right away! Don't hesitate to receive care from emergency medical personnel. 
Check Out Oakleigh of Macomb
This winter, give yourself the gift of moving into one of the best retirement communities near me, Oakleigh of Macomb. Here at Oakleigh, you can stay safe and warm all throughout the cold weather season. Enjoy a robust calendar of activities, delicious and nutritious meals served every day, and the comfort and peace of mind knowing that you are in a safe and secure community. Contact us today for information about how to become a resident of Oakleigh and begin living the very best life you deserve!