Making the decision to move to one of the assisted living facilities near me is never an easy choice. In fact, it is something that should be given a lot of thought, time, and careful consideration. If your senior loved one, whether it be your mom, dad, grandparent, aunt, or uncle, is in the position where they could really benefit from a retirement community, it's important to start the conversation.
When you sit down to discuss various senior living options, it is perfectly normal to be met with some pushback or resistance. After all, it is pretty rare to find a senior who is willing to jump at the opportunity to make such a drastic change at that stage of their life. That is why today, our team has outlined a few ideas that could help make the transition easier. Continue reading to learn more!
1.) Plan for a comfortable and private setting.
Discussing big topics such as these require a certain level of discretion and consideration. When planning how to broach the subject, make sure that you have picked out a private yet comfortable place to talk. This could be at your home or your senior's home. Avoid having the conversation at a public place, such as a cafe or restaurant. Emotions can run high during these types of meetings and it's important to make sure that everyone feels comfortable, safe, and respected. 
2.) Involve only the necessary people.
It's true what they say: everyone has an opinion. When having a conversation about a senior loved one's future retirement plans, things can complicated quickly if many hands are involved. Narrow things down to only direct family members, such as children. If you have brothers or sisters, find out how much they want to be involved in the planning and discussion. For those who live out of town or out of state, they may say that they want to help but also might turn the bulk of the responsibility over to you. Every family is different just like every senior retirement plan is different. There is no right or wrong answer, just find out what works best for you. 
3.) Look at all the available options.
If you go into this discussion with a 'my way or the highway' type of attitude, things will surely fall apart quickly. Instead, reiterate to your senior loved one that no one is forcing them to make this decision and that there are many different options available. When you emphasize that they have a close say in the matter, they are likely to be more receptive to your talking points. Manu seniors fear losing autonomy as they age. Others worry about being forgotten about and left behind. Showing that there are different plans to choose from will bring about a lot of peace of mind.
4.) Take the time to really listen.
A discussion is a two way street, and if you're the only one talking, then you aren't taking the time necessary to listen to your loved one. Create a safe environment where they feel comfortable discussing their fears, concerns, and ideas without judgment or criticism. When they are talking about something, even if you don't agree with what they are saying, don't interrupt. If you interrupt them, they might feel ignored and misunderstood and shut down. This is the last thing you want, as it could make them feel as though their opinion and thoughts don't matter.
5.) Offer specific examples.
Prior to sitting down and having a conversation about your senior moving to one of the assisted living facilities near me, prepare specific examples in advance. Generalizations such as 'your home isn't safe for you anymore' might make your senior defensive or edge. Instead, have examples prepared of specific times where your senior fell, was injured, or even hospitalized due to an accident at home. Sometimes, people just need to see tangible evidence lined up in order to make a clear and rational decision.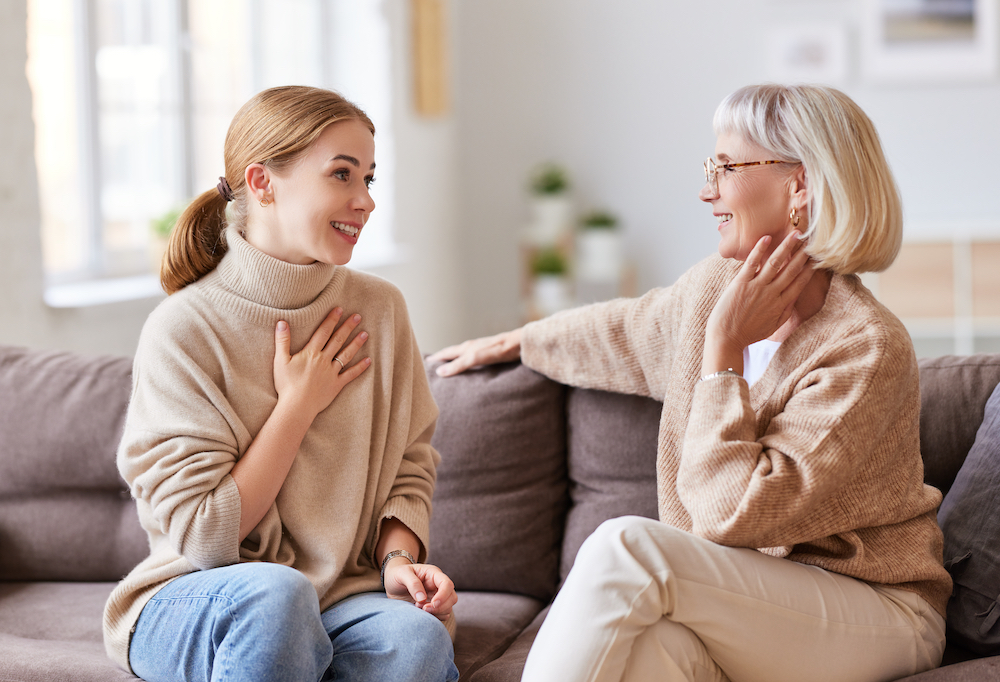 6.) Keep a positive attitude.
Above all else, the key ingredient to a worthwhile discussion is to be positive. In this day and age, senior living communities have so many amazing amenities available. In fact, many feel like luxury resorts or hotel getaways as opposed to a retirement home. Many years ago, some senior living communities caught a bad reputation and it created a stigma around 'nursing homes'. Thankfully, many of these are just myths and can easily be debunked by looking closer at a community. 
That being said, talk about all the good things that a senior living community has to offer. This includes a robust calendar of activities, restaurant style dining, an on site health and fitness center, on site salon and spa, beautiful grounds and walking paths, a safe and secure facility, and so much more! There are so many positive things you can mention in regards to a senior living community. 
7.) Book a tour and see for yourself!
You know what they say – seeing is believing! Talking about how amazing the assisted living facilities near me are is one thing, but showing your senior is a whole other. Schedule tours with different communities in the area and find out what your senior liked and didn't like about each one. Create a pros and cons list to help too! While you're touring, don't forget to ask lots of questions. This will help you, and your loved one, determine if the community will be a good fit.
Check Out Oakleigh of Macomb
The assisted living facilities near me aren't one size fits all! But if you want to tour a great community that has a lot to offer its senior residents, then be sure to check out Oakleigh of Macomb. Here at Oakleigh, we truly care about residents and want them to live the happiest, healthiest golden years possible. Excellent amenities, caring staff, and beautiful facilities are just a few of the perks that you have to look forward to. Contact us today for more information or to book your time to take a tour!