The pandemic brought disastrous impacts to the lives of every person in the world, especially elderlies. Locked in their homes and retirement communities, most seniors have yet to meet and hug their loved ones in person. Even with the vaccination program going on, older adults still have to be careful and limit their contact with people.
The only good thing that came out of this pandemic is the innovative ways people adapted to safely continue their daily routines and activities. 
Even senior living communities adapted "new normal" routines so older adults can still get on with their lives and maintain their overall health. One innovative activity they created so seniors can stay socially connected is virtual clubs.
Is the term new to your ears, or does your community do it too? Here's everything you need to know about virtual clubs and why you or your senior loved ones should be involved with them!
What is a Virtual Club?
A virtual club is just like your traditional senior club, except that here, you meet, connect, and engage with the club's members virtually. 
Rather than meeting in-person, you will be meeting online using smart devices and internet apps. It can be through a group chat or video conferencing using different digital platforms like Facebook, Skype, and Zoom.
This kind of remote programming allows seniors to stay socially active while also safeguarding their health against the COVID-19 threat. Some examples of already established senior-friendly virtual clubs include the following:
Online book clubs.

On-demand senior fitness classes.

Guided meditation through an online instructor.

Specific pet groups for dog, cat, and animal lovers.

Resident-only Facebook group exclusive for your senior living community.
Moreover, most of these virtual clubs can also be enjoyed by seniors independently living in their own homes. 
6 Benefits of Joining a Virtual Club
Your physical and social activities have probably been halted during the coronavirus outbreak. But don't worry because now, you can improve your social life and connection online by joining virtual clubs.
Here are just some of the benefits of filling your or your residents' activity calendar with virtual activities.
1. It Encourages Socialization
One of the primary goals of virtual clubs is to bring back the art of socialization amid a severe pandemic. Seniors need social fulfillment and connection now more than ever. With everything that has been going on, staying connected with family and friends may be their saving grace.
Moreover, a virtual club allows you to mingle with people your own age or meet others from younger generations. You can bond over something you all enjoy without having to leave the comfort of your home. How cool is that?
2. It Promotes Physical Activity
Retirement communities provide residents with excellent and safe places to exercise and work on their physical wellness. But if you want to spice up your workout regime, you can always join a virtual fitness club.
Numerous fitness studios and gyms have now taken their business online. All you need to do is get your internet-ready and find a trusted instructor online that offers senior-friendly exercises. Some virtual clubs to try include:
At-home senior workout videos on Youtube.

Live online workout sessions.

Guided online yoga and tai-chi classes.

Interactive exercise equipment, like the Peloton bike.
Other kinds of virtual clubs also promote physical activity, such as online gardening or cooking clubs.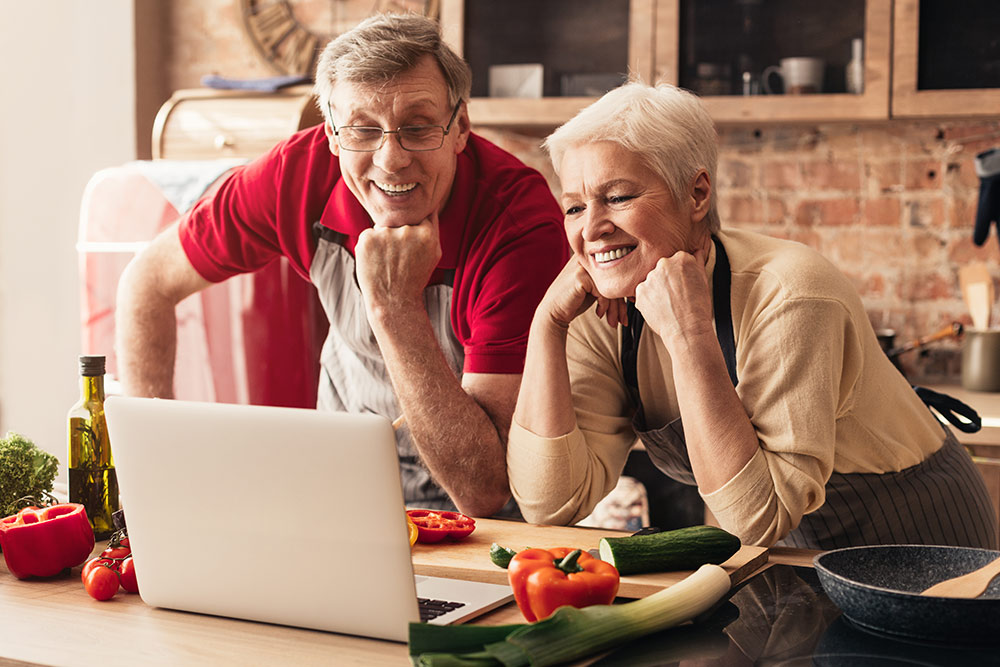 3. It Provides Mental Stimulation
Being on a lengthy lockdown can definitely take a toll on your mental and cognitive health. So why not break the boredom and mental staleness by joining a virtual club?
Activities like online book clubs and virtual tours help stimulate your mind and keep it active. As a result, it will sharpen your cognitive functions, such as thinking, memory, and learning.
Moreover, it is a great way to further your knowledge while also enjoying the experience on a whole new level. You get to meet your virtual classmates, talk about your favorite books, or play a live game of chess. There are plenty of mentally stimulating clubs online; you just have to find what activity suits you best!
4. It Maintains Spiritual Connection
Spirituality plays a huge and vital role in most older adults' lives. A fulfilled spiritual connection enhances their health, wellness, and emotional well-being. 
Now that there are limited in-person gatherings, you can continue pursuing your religious commitment online by:
Attending online religious services via your religion's club.

Participating in virtual activities organized by religious sectors.

Join virtual volunteering programs for people in need of your skills—for example, free legal advice from senior lawyers or freelance writing charity work from writers.
Virtual clubs provide seniors with an opportunity to achieve spiritual fulfillment without compromising their physical safety.
5. It Gives an Opportunity to Explore New Passions
With plenty of senior-friendly virtual clubs online, there's no shortage of fun activities to try, especially for seniors cooped up in senior homes.
Retirement communities may include several unique virtual activities in their activity calendar, so residents can explore new hobbies or get back to their old ones. All you need is a good internet connection and smart devices, and you're all set!
The convenience of virtual clubs encourages seniors to go out of their comfort zones and try something new. They can now do this even without going out and spending money.
6. It Improves Quality of Life
The general purpose of any virtual club is to bring people together to learn, grow, enjoy, and live life to the fullest. It is designed to cater to your interest and interact with fellow individuals with the same passion. And all of these reasons ultimately boils down to one benefit—the improvement of the quality of your life.
In addition, online groups give comfort and reassurance during these trying times. It helps you connect with your loved ones, maintain your social life, and work on your overall health. 
Joining one has plenty of benefits and little to no disadvantages. So, take your pick of available virtual clubs and see how it benefits your life!