Your home is your haven, a place of solace after a tiring day in the outside world. Throughout the years, you have filled it with beautiful memories with family and loved ones. That's why saying goodbye and leaving it behind to move to another community can be tough for you. 
So think about how much more difficult it would be for your senior loved one when it's time to transition to one of the assisted living facilities?
Seniors transitioning to a senior community will often feel emotional and anxious as the actual move-in date nears. Even if your loved one is willing, they cannot help but feel scared for this new chapter of their lives. 
So, here are some helpful suggestions on what you can do to ease their anxiety and make their relocation a little less stressful.
1. Give Them Time
You or your loved one might not like the idea of moving them to an assisted living facility. But sometimes, it is the only best option available for health, security, and safety reasons.
So, broach the subject to them with respect and compassion. Tell them why living in a senior home can benefit their health and enrich their lives. Give them time to adjust to the idea before helping them look for the perfect community for them.
Also, remember to go easy on yourself. Moving a parent or any loved one to the expert hands of caregivers is not a selfish act. It's actually the opposite since these facilities will take good care of your loved one more than any family caregiver can.
2. Visit the Community
After choosing the best assisted living community, make sure to plan a tour around it together with your loved one. Schedule it months before the actual moving day, so your loved one can take a look at their future home, mingle with other residents, and get to know the staff.
Visiting several times will help dampen their fears about transitioning, like what if they don't make new friends or can't find their way around the community. While touring, you should also ask the staff some important questions to ease your loved one's worries.
3. Create a Plan for Downsizing
Moving to a senior home means your loved one needs to downsize. Most assisted living facilities offer apartment complexes spacious enough for comfortable living but not large enough to fit all the furniture in your loved one's two-story house.
Here are some tips on how you can help them downsize:
Make sure to involve your loved one in deciding which items should go with them.

Start with the important stuff like medical documents, medications, personal clothing, and items.

Get the floor plan of your loved one's future home, so you know what furniture to include in their move.

Start early, so there's room for breaks, bonding, and reminiscing. 

Take it room by room. Make a daily schedule of the specific rooms you are going to sort through.
Make sure to talk with your prospective senior community first before packing things. Some facilities' living spaces come with essential furniture and appliances. Lastly, get your loved one's permission before selling or donating any of their items.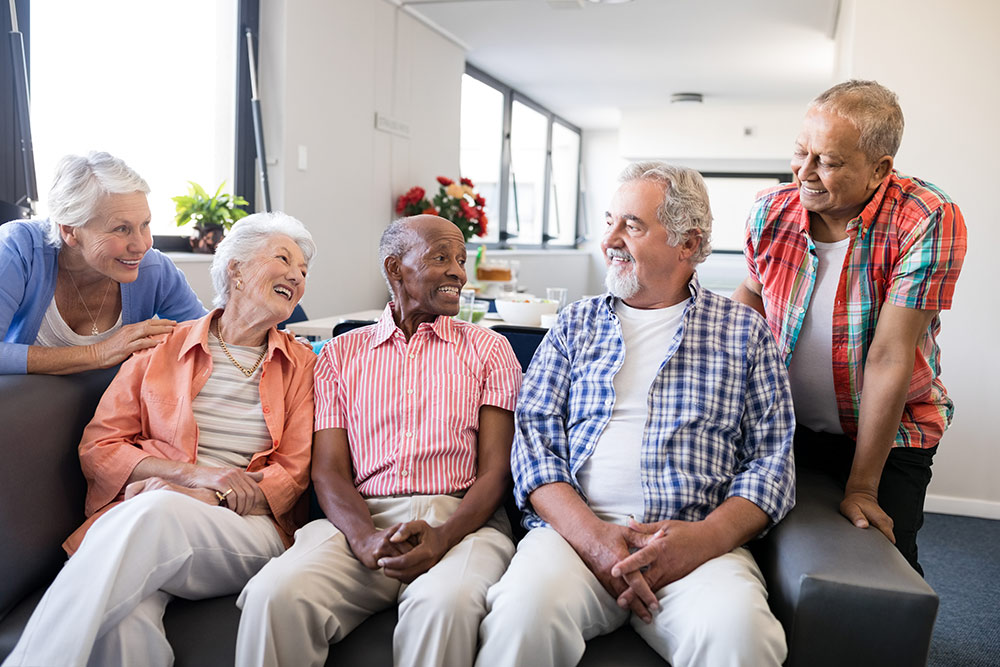 4. Make their New Space Familiar
Being surrounded by familiar items with sentimental value will help your loved ones adjust easier with their new surrounding. So do not buy new decor, glassware, and furniture just yet. Instead, use their favorite items to make the new place feel like home again.
Also, you can help them settle in comfortably by arranging their new space like their old ones. For example, you can organize their photo shelf the same way it was in their home. Or place their favorite lamp beside their rocking chair, just like they used to be.
5. Expect Setbacks
Your senior loved one might love the idea of residing in a new community with fellow elderly. Still, they can sometimes feel lonely, scared, and unsure about their decision. Some senior parents may even have a fantastic time after the first two weeks of the move, then suddenly become lonely and second-guess their relocation.
All of this is normal. Human emotions are not set in stone, so expect some setbacks even months after they settle down in their chosen community.
Through these rough times, just remember to support them with kindness and empathy. A little sense of humor can also go a long way in reassuring your loved one.
6. Visit them Often
It is essential to visit them as much as you can right after the first few days of their move. Visiting them more often will relieve their stress and prevent any negative feelings from settling in. 
Further, having you by their side makes it easier for them to mingle with others or join in on activities. While you're there, make sure to encourage them to join social activities, like:
Visiting their library, on-site movie theater, or fitness center.

Dining with fellow residents in their on-site bistro and restaurant.

Signing up for their book club, sports club, and other activities.
After the first few months, you can lessen your visits a bit to let your loved one have some independence and experience the community on their own. However, make sure to contact them constantly, either through phone or video calls.
It's important to note that every senior is different, so you need to gauge if visiting more often will help your loved one's situation or worsen it.
7. Get Support from the Staff of Assisted Living Facilities
Senior communities are no stranger to the emotional and physical distress elderlies experience during their transition. 
This means that they can also help in easing your loved one into this new journey. So don't hesitate to ask for their assistance before and during your senior's move. Some of the things they can do to help include the following:
Starting a conversation with them.

Helping them

socialize and gain new friends

.

Introducing new hobbies or guiding them to pursue their old ones.

Assisting them in using the internet or smartphone to call their loved ones.