There's a reason why polls and surveys show that older adults feel happier, satisfied, and content during their retirement years. In fact, research showed that besides being happier, seniors have higher rates of healthy overall well-being during their time in their senior communities.
Well, it's really not that hard to believe since senior homes today strive to provide nothing but the best amenities and services to their residents. Further, there are now different kinds of senior housing options to accommodate every elder. This includes:
Independent living facilities

Assisted living communities

Memory care or Alzheimer's assisted living

Nursing home

Resort-style retirement community
Every senior community offers everything that can enrich an elderly's life–from assisting them in performing daily living tasks to providing activities to satisfy their craving for fun and adventure.
All communities and facilities ultimately want to achieve one goal–to help seniors lead a happier and healthier lifestyle so that they can live life to the fullest.
Are you ready to live the best life in your senior living community? Here's how you can enjoy your stay in your chosen place with all the activities they have in store for you!
 1. Learn Something New
One of the best things about retirement is that it frees up your time to do things that actually mean something to you. 
Discover life and pursue the hobbies that you have wanted to try! Learn or try something new by joining in on the numerous activities offered by your senior community. Most facilities have a diverse list of programs and activities to cater to the interests of every senior. Here are some fun ideas to get you started:
Enrolling in a writing workshop, foreign language class, or an entire course.

Immersing in arts and crafts like painting, drawing, sculpting, pottery, and collaging.

Joining a book club where you get to discover good reads every week.

Learning how to dance.

Trying out a senior-friendly sport like golf, tennis, and ping pong.

Embracing your inner child by joining in on games.
There's also no shortage of programs and social events in the best senior housing community. There are movie nights, volunteering efforts, family events, and dance programs. 
There's something new to do every day which allows you to enjoy every second of your seniorhood. Make sure not to miss anything by participating in every event!
 2. Explore the Community
The best senior living communities have plenty to offer besides that comfortable two-bedroom apartment you live in. Many facilities provide several outdoor spaces where seniors can lounge, enjoy happy hours, or spend quiet mornings by themselves. 
Also, if you want to relax on Sunday afternoons, you should look for an on-site bistro, bar, salon, and spa parlor. So, make sure to explore every walking path and greenery that they have in your community so that you would not miss out on all the fun!
Another thing you can enjoy is the services that they offer. Different senior housing facilities provide varying amenities from one another. It can range from basic and essential needs to grand and luxurious services. This can include:
Car and shuttle service for doctor's appointments.

Scheduled trips outside the community to do shopping, personal errands, special outings, and field trips.

On-site health and wellness studio.

Excellent Wi-Fi connection throughout the community.

Concierge services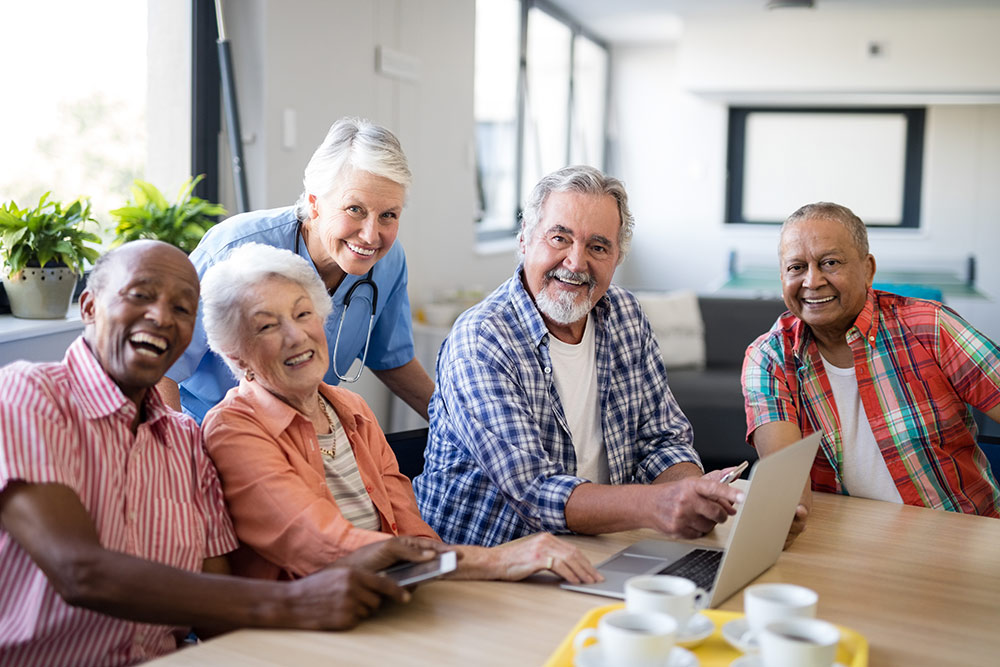 3. Get to Know Fellow Residents
Healthy social interactions benefit everyone of all ages, especially seniors. As they age, their social circle becomes smaller and limited only to family members. That's why they need to make a constant effort to connect with other people and establish new relationships. 
Further, research showed that individuals 50 and above have a high risk of feeling lonely and socially isolated. So, it's time to get out and socialize around the community!
Consistent socialization helps you remain physically, mentally, and emotionally healthy. Some of its specific benefits include:
Active and healthy brain.

Reduced stress, feelings of loneliness, and isolation.

Improved heart health and blood pressure.

Decrease risk of developing depression and anxiety.

Slowed progression of age-related decline.
If you are not much of a social butterfly, then you can use your senior housing's social activities as an opportunity to get to know other people. It's easier to chat up with like-minded seniors, plus you already have something to talk about.
 4. Lead a Healthy Life
You can only live your best life if you remain fit and healthy in all aspects of your life. That's why most senior communities enrich their residents' lives by prioritizing their health and wellness. 
One way to do this is to focus on nutrition. Take advantage of your community's private chef and culinary team by dining in their on-site restaurants or getting take-out to your private dining room. The meals they prepare are always fresh and will surely satisfy your appetite and fulfill your dietary needs.
There's also a combination of therapies and restorative programs to keep your physical and mental welfare healthy. Further, there are wellness programs that focus on educating seniors regarding healthy habits and lifestyles.
Facility staff and caregivers can help you achieve your goals of staying healthy. Also, they can assist you in coming up with an individual care plan for yourself.
 5. Sit Back and Relax
Living in the best senior housing community means you get to sit back, relax, and focus on yourself. You don't have to worry about home maintenance, your pile of laundry, or going to the grocery store. It will all be taken care of for you; all you need to do is ask.
Senior facilities value and encourage independence, but they can assist you if need be. Some of the essential services they offer are as follows:
Weekly housekeeping and daily access to a helper.

24/7 staff presence and monitored emergency systems.

Home maintenance, laundry, and linen service.

Daily meal preparation

Coordinates healthcare plan with doctor

Basic healthcare needs like medication management and administration.
Conclusion
Retiring and getting old is not the end of an era for you. It's actually the opposite because now, you get to enjoy the things that you did not have the privilege of enjoying before. Live your best life by choosing the best senior housing facility!