When on the hunt for senior living near me, you want to make sure that you find a community that is going to meet all of your needs. Of course you want to make sure you have the basics covered, such as a comfortable living environment, great food, caring staff, and the ability to socialize with new friends. However, if there is one thing you shouldn't overlook, it's making sure that you can stay fit and on top of your health. 
We're not saying you need to step out and train for a marathon or anything like that! But finding ways to keep your body moving and active while at your senior living community can make the world of difference for giving you the longest, fullest life possible. Keep reading to learn more about some suggestions we have to help you thrive and stay healthy once you've moved in!
1.) Make it a social event.
Exercising without a partner can be really discouraging, especially if you are a social person. If there is one way to make the time go by quickly, it's inviting a friend to come along. Being in a senior living community means that there are always other folks around to hang out with and odds are good you will find someone with similar interest as you as well!
For example, if you like walking, grab a buddy and go for a stroll around the local trails or walking paths. Or if you're into golf or tennis, you're sure to find a partner who will want to join for a few rounds. Plus, this person will serve as an accountability partner and keep you motivated even on the days you want to skip. There is also the added mental health benefit of staying connected and talking with a friend. 
2.) Use our on-site amenities.
Here at Oakleigh, we know that health and wellness is all-encompassing. It is more than just hitting the gym on occasion. That is why we have made sure to offer a myriad of amenities to help you have the best experience possible while living in our community. 
Not only do we have an on location fitness center, but we also have a spa and outdoor walking trails. On our weekly community calendar, we offer a variety of activities for residents to participate in, including Zumba, yoga, and more! Take advantage of these as much as you can – after all, it's what they're there for! If you're new to the community, taking one of these classes or participating in one of these activities will also be a great way to make a new friend or two.
3.) Use what you have!
If you are someone who prefers to workout alone or perhaps you just want a bit of solitude from time to time, don't overthink it – just use what you have! Invest in some light weights or a few resistance bands to keep in your room. Use them from time to time while watching TV or listening to some music. 
Because our community is pet friendly, this is a great opportunity to get out and walk the dog! Even twenty minutes of exercise each day can do wonders for your heart and lung health. So pop in your headphones, grab the leash, and take your furry best friend for a stroll. Just remember to exercise safely and keep in mind any medical limitations or medications.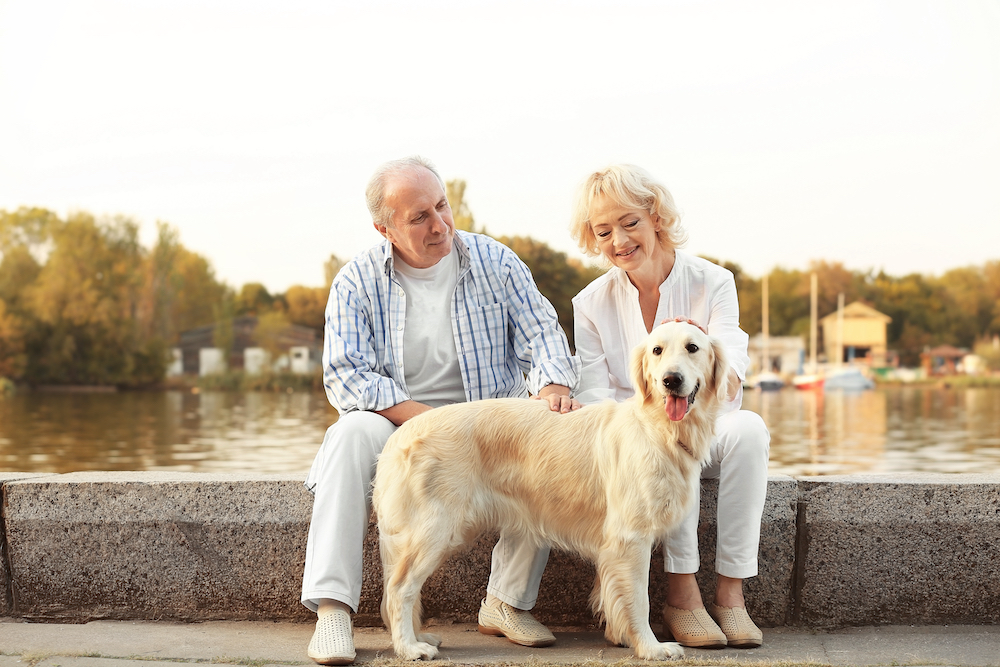 4.) Take up gardening.
Spending time outdoors is good for the body, mind, and spirit. Now that the weather has warmed up and spring is in the air, it's time to shake off those winter blues. If traditional exercise isn't your thing, that's okay! There are other ways to stay active, especially in the springtime. One great example of this is gardening!
Gardening allows you to spend time outdoors and get fresh air. It is a great activity to do in solitude or in a group with other people. So whichever you prefer, it has you covered! While gardening might look simple, it can be a bit strenuous at times, especially if you are pulling up weeds or tilling soil. Plant flowers or grow delicious vegetables, either way, you're sure to have fun and break a sweat.
5.) Try something new!
Another great thing about moving to a senior living community is the opportunity to try new things, especially in the realm of health and wellness. Like on a college campus, there are so many activities right within reach. 
For example, say that you wanted to try yoga. However, it was hard to get started because you didn't want to go through the hassle of finding a local studio and then paying a bunch of money for something you might end up not even enjoying. That's perfectly understandable! The good news is that you can do these things here at Oakleigh with none of the headache. If you go a few times and find it's not your cup of tea, that's okay! 
Retirement should be about the freedom to do all the things you wanted to do but didn't have the time or resources to enjoy while you were working full time. Even if it seems silly, don't hesitate! 
Check Out Oakleigh of Macomb
Are you ready to live your best and healthiest life in retirement? These are your golden years, don't settle for subpar senior living near me. Instead, find somewhere that you can truly stay active and thrive, connect to others, and have the freedom and opportunity to try new things!
Here at Oakleigh, we are proud to create a community that encourages residents to stay active and build connections with one another. Whether it be for assisted living or memory care, our residents should live their fullest lives. That is why we have done our best to go above and beyond to create somewhere that feels like home while giving you the amenities you deserve.
If you're interested in taking a tour and learning more about us, contact us today! We can't wait to meet you and show you around your new home.