Making the decision to move to a senior living community is a huge deal, and you want to ensure that you find the right fit for you. There may be many options in your area, but know that not every community is the same. That is why finding the best retirement communities near me requires a bit of time and research on your part to ensure that you are making the transition to a community that suits your needs. Listed below are some of the best tips we have to offer anyone who might be searching for a retirement community.
Different Levels of Care
First and foremost, you need to decide what level of care is best for you or your senior loved one. Determining this will allow you to lead your best quality of life and help you to feel most at ease at your new retirement community. 
Independent Living
For a senior who wants to make the transition to a retirement home but doesn't require much by way of medical care, then an independent living community is the best fit. These types of communities focus on active living and often come with luxury features that make you feel as if you are living at a resort as opposed to one of the retirement communities near me. This is an excellent choice for a senior who wants to downsize out of their family home and focus on the finer points of retirement. 
Assisted Living
If you are a senior who would like a more hands-on approach, perhaps with medical care or help with day to day tasks, then assisted living would be the ideal way to go. Here at Oakleigh of Macomb, our assisted living community offers beautiful, spacious apartment living as well as a wealth of great amenities that are perfect for residents in need of an elevated level of care. 
Memory Care
Older adults who have cognitive impairments, such as Alzheimer's disease or dementia, will find moving to a memory care community to be the best choice for them. That is because these types of communities specialize in memory care. Cognitive impairments come with a multitude of unique symptoms and behaviors that can be difficult to manage or navigate without the proper training and communication tools. Our Oakleigh of Macomb staff is highly qualified in this area and our community is fully equipped to offer a safe, nurturing, and enriching environment to those with cognitive decline.
Services and Amenities
When touring the various retirement communities near me, another thing you should keep in mind is what kind of services and amenities that they offer. What you want from a community may be different than what a friend wants from a community, and that's okay! For example, is finding a place that offers an on location day spa on your priority list? What about a community that comes with the option for outings and shopping? These are all topics you should consider.
Here at Oakleigh, we are proud to offer the following great amenities to our residents:
Restaurant style dining with meals prepared by our culinary team

Weekly housekeeping and daily maid services

Weekly personal laundry and linen service

On-site health and wellness center

On-site salon and day spa

Regularly scheduled trips for outings such as shopping, dining, and visiting entertainment venues

Complimentary Wi-Fi all throughout the community and resident apartments

…and so much more!
Calendar of Activities
Life in retirement should be far from boring. In fact, you should be able to live up your golden years to the fullest! Moving to a retirement community that offers a variety of fun activities is always a good option. Plus, you can find a little something for everyone here at Oakleigh! We are proud to offer cooking classes, group exercise courses, arts and crafts activities, and so much more. If you want to have fun in retirement, connect with others, and even learn something new, then make sure you find a community that values an enriching and robust activity calendar.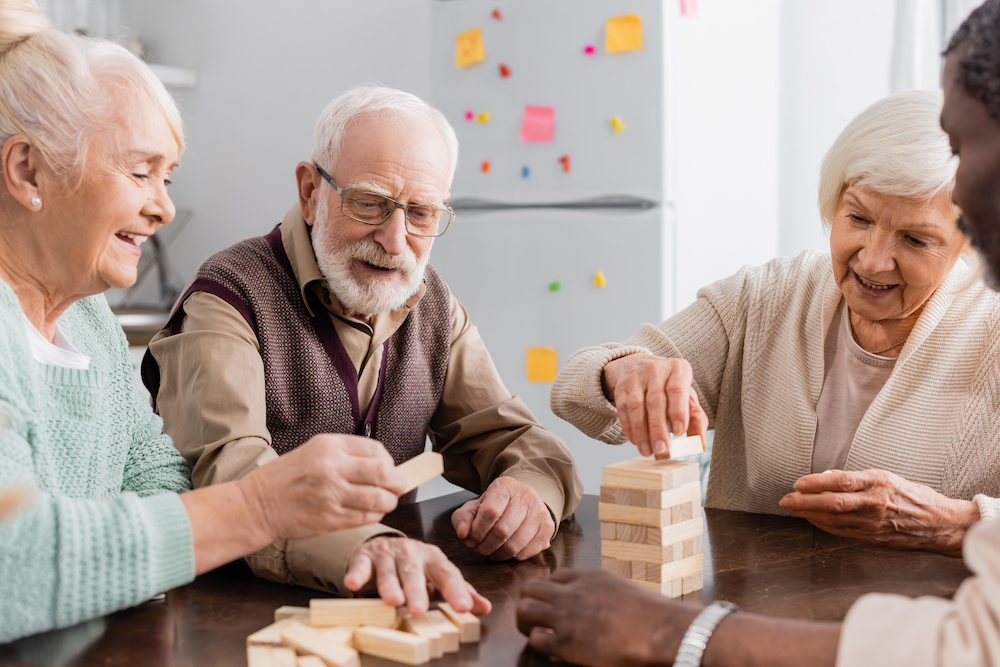 Safety and Security
Another primary factor that may prompt you to move to the retirement communities near me is that you want safety and security. This is perfectly normal for a number of reasons! For example, seniors who live alone at home are at an elevated risk for a variety of health concerns, such as senior isolation, heart disease, and falling. Not only that, but living alone as a senior also means an increased chance of home invasion or scams. 
Round the Clock Care
When you move into one of the senior retirement communities near me, you can rest assured that you will be safe and secure. At Oakleigh, we have a 24/7 emergency response system and staff that is awake and alert around the clock. That means that should an emergency arise, such as a health concern or severe weather, they will be there to provide aid quickly and effectively. This level of peace of mind is extremely important to older adults.
Safety for Memory Care Residents
For those who are in need of memory care services, dementia wandering is a very common symptom. Dementia wandering can cause those affected to become disoriented and confused, prompting them to wander off. In extreme hot or cold weather, this can put seniors at risk. Secure facilities and round the clock care ensures that these incidents don't happen and that individuals can stay safe and cared for.
Schedule a Tour Today!
\If you are ready to learn more about Oakleigh of Macomb, then contact us to schedule a tour today! We would love to give you a first hand look at our community and all that we have to offer our residents. Meet our kind and caring staff, walk the grounds at our beautiful senior living apartments, and learn more about the fun activities and amenities available. We know that you will love visiting Oakleigh so much that you will want to become a resident as soon as possible!