When making the move to assisted living in Macomb County, many seniors worry about whether they are going to connect with the other residents. This is a normal concern to have, after all, as making the transition from living at home to living with others can certainly be a big change. Just like when leaving home and moving off to college or the workforce all those years ago, seniors want to be able to make new friends and find camaraderie with others. It is only human nature to want to connect with the people around us. 
That being said, if you are a senior getting ready to make the journey to senior living, you might be unsure of how to make these kinds of connections. Thankfully, our assisted living in Macomb County has prepared some helpful tips you will want to check out! Keep reading to learn more.
Benefits of Socialization
Even for folks who aren't particularly outgoing, it is still important to have meaningful connections and make friends. But did you know that building friendships and relationships with others is actually good for senior health? Check out these great health benefits of socialization:
Improved Self Esteem
When we spend time with others who care about us, it can have a huge impact on our self esteem! We feel assured that there is always someone to check in on us and ask about our day. Plus, it always is a good feeling to be invited out to dinner or to a birthday party!
Stay More Active
When spending time with friends, we are typically getting out and about doing something. Sure, the occasional movie night is fun, but there are some activities that are just better with friends! For example, going for a walk around the beautiful grounds of our assisted living in Macomb County or taking an art class is always more fun when you have a friend. 
Decreased Depression
While sad feelings are a natural part of life, becoming depressed can be very dangerous for senior mental health and wellbeing. It can even cause some seniors to isolate, meaning that they cut themselves off from their loved ones. This can lead to becoming a factor in prolonged negative health problems, including heart disease and dementia. When we're around others who care about us, however, the risk of depression and isolation decrease immensely.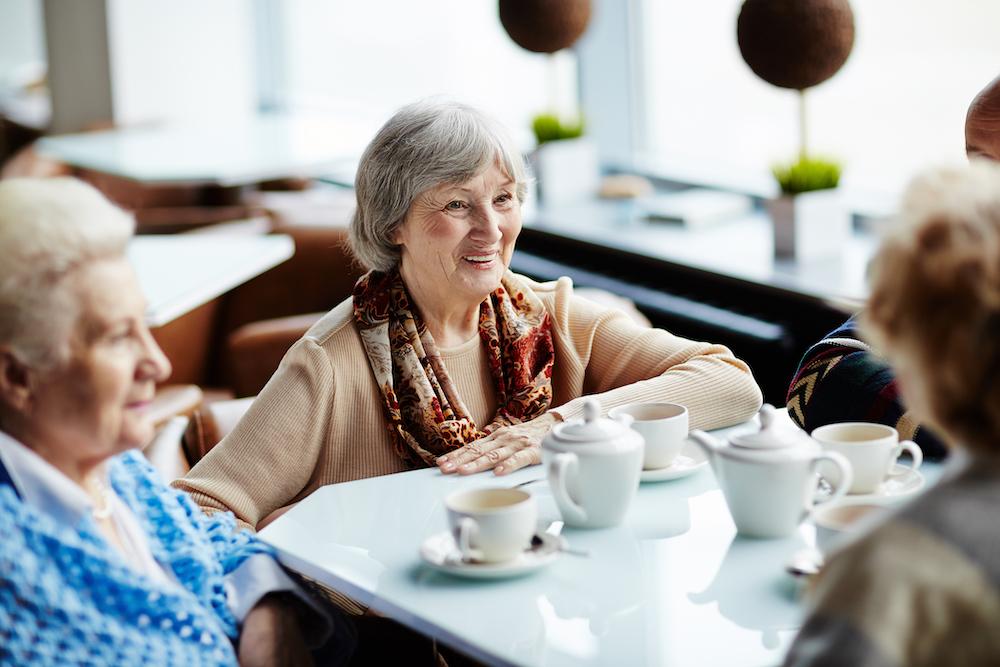 5 Tips for Making Friends
Once you are all moved into assisted living in Macomb County and you've unpacked your things and settled in, it's time for the fun part: getting to reap the benefits of senior living. To go about making new friends, follow these five tips:
Tip #1: Participate in community activities.
One of the things we pride ourselves on here at Oakleigh is our diverse and fun community activity calendar. We provide our residents with ample opportunities to lead rich, fulfilling lives and make the most of their golden years. No matter what you like or hobbies you enjoy, you're sure to find something to do at Oakleigh. Plus, this will be the best time to meet someone with similar interests! Take a dance or yoga class, go on a group walk, learn to paint or sew – the options are nearly endless!
Tip #2: Dine with others.
If there is one thing for certain, food tastes better when it is shared with others. Our restaurant style dining is perfect for sitting down and socializing with others. Even if you don't know anyone yet, walk up to a table and ask if they wouldn't mind having an extra person. Introduce yourself and ask questions about them and how they're doing. This is a sure fire way to make new friends! 
Tip #3: Find other newbies.
Odds are good that you aren't the only fresh face at senior living! If you are concerned about joining in on a pre-established social circle, find other new folks to link up with. Together, you can navigate the changes, learn the ropes, and get a hang of your new community. This will help to create a stronger bond in the long run. Though don't be afraid to talk to others and ask questions! They are sure to be more than happy to help.
Tip #4: Invite a friend or family member.
If the idea of branching out is terrifying, and you need a little help, please don't be ashamed! Sometimes, the help of a trusted friend or family member is all we need to bridge the gap and connect with other people. Ask a loved one to come to the senior community and join you in an activity or for a meal. This will give you more confidence and reassurance that you have someone nearby to fall back on. 
Tip #5: Have a little patience.
Remember the old adage: Rome wasn't built in a day. This same concept applies to you as you begin to adjust to your new living environment. Change can be tough on anyone, even those who are typically especially resilient and outgoing. It may take a few weeks to get totally acclimated and find people to befriend. Give yourself lots of grace and patience as you navigate these new waters! Before you know it, you will fit right in and truly feel at home.
Schedule a Tour
Have you been considering moving to a senior living community but aren't totally committed to the idea? We believe that one tour of our beautiful assisted living in Macomb County will certainly help you make up your mind! Here at Oakleigh of Macomb, we have specifically created a warm, welcoming environment for all of our residents. We want everyone to feel as though this is truly their home away from home.
To get started in the process, contact us today! We can schedule a tour, answer any questions you may have, and show you just what is waiting for you at assisted living.