For residents of memory care in Macomb, MI, it's important to find ways to make life a little easier. While you can rest assured that they are having all of their needs met while residing at Oakleigh of Macomb, adding a digital assistant such as a Google Home or an Amazon Alexa can certainly have its benefits! Today, our team wants to explore just how these devices can be useful, and how memory care residents can benefit from using them.
1.) Listen to Music
One of the best things you can do for your brain is listen to music! This is especially true for those who struggle with dementia or Alzheimer's disease. Research has shown that music therapy can be extremely beneficial to helping prevent cognitive decline as well as trigger memories that may have been otherwise lost. 
That being said, however, it's not always easy to drag out a CD player or even use a music streaming app on a cellular device, especially for older adults. That is where a digital assistant can come in handy! Because these devices use voice commands, all a senior has to do is ask to hear their favorite song or artist. They can even adjust the volume or skip a song with a voice command as well. 
2.) Dive Into a Story
Does your senior love to read but has been struggling to get into a book due to low eyesight or other mobility issues? The good news is that this doesn't have to be the case any longer! Each and every day, hundreds of audio books are being added to various streaming platforms and can be accessed through a digital assistant. 
This even includes classic novels and tales that your senior loved one has enjoyed all their life but haven't been able to read. Give your senior the gift of reading by purchasing one of these digital assistants. Once again, everything is available on a voice command!
3.) Set Alarms and Reminders
If your senior loved one resides at memory care in Macomb, MI, it is because they struggle with remembering different aspects, including day to day life and routines. A digital assistant can really be useful in these situations, as reminders and alarms can be set up using a voice command. This could be as simple as a reminder to call a loved one on their birthday, or a daily alarm to prompt them to take their medication at a certain time. 
For a senior who suffers from dementia, these kinds of notifications and reminders can be exceptionally meaningful. It is a great way to keep track of things without having to rely on another person. It can mean heightened independence, especially for memory care residents. 
4.) Call for Help
Even in a secure and safe community like our memory care in Macomb, MI, it never hurts to have a little extra peace of mind. Digital assistants can be a great resource in the event of an emergency. When set up to do so, these devices can call emergency services or even a loved one. 
For a senior who has fallen or is experiencing a medical emergency and can't reach their phone, this can mean the difference between life and death. Just with a single voice command, your device can connect with someone who can help. This is extremely reassuring to both seniors and their loved ones alike.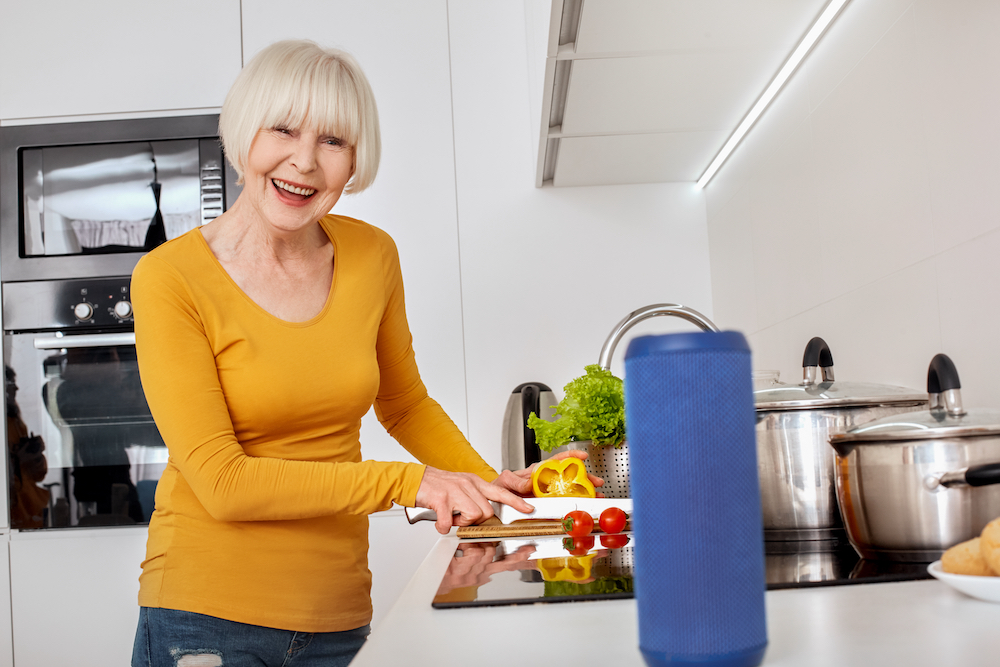 5.) Play a Game
Did you know that digital assistants have many games you can play with just a simple voice command? This includes guessing games, trivia, Name That Tune, and so many more! This is a great way for memory care residents to have fun and stay connected, all from the comfort of their room. 
While many games can be played solo, invite friends and family over for a round or two. Socialization is extremely important for those with memory challenges, as is staying integrated and connected with the people you love. 
6.) Adjust the Lights and Thermostat
When set up to do so, digital assistants can help out around the house by dimming lights or turning up the air conditioning. This can be extremely helpful to seniors with mobility issues. For example, if you are needing to get up and use the restroom, but are worried about stumbling around in the dark, just ask Alexa to turn them on for you! 
Or, if you are too hot but can't get out of bed to adjust the thermostat, you don't have to lay there and sweat it out. Just ask your digital assistant to bump the temperature a few degrees! This kind of hands free accessibility can be a game changer for seniors.
7.) Online Ordering
Need something brought right to your door? Many smart devices are capable of helping with hands free ordering. This can include anything from a pizza to groceries to even regular household items. Everything is just a quick voice command away, allowing you to have access to the things you need without having to ever lift a finger. You can also ask the device to alert you if certain items have gone on sale or to keep track of coupons. For seniors with mobility issues or who can no longer drive, this is just another way that these devices can help memory care residents maintain their independence longer. 
Memory Care Macomb, MI
If you are on the hunt for a great memory care community for your senior loved one, then look no further than Oakleigh of Macomb. Here at Oakleigh, we understand just how vital it is that seniors with dementia or Alzheimer's are taken care of and treated with the utmost respect. Our incredible and highly trained staff is here to help in any way we can. 
To take a tour of our facility or learn more about us, please contact us today! We know we are going to be a great fit for your senior and we can't wait to show you the difference that Oakleigh can make.