At long last, spring is finally here and that means there is a lot that seniors can look forward to, including spending time outdoors. The best thing you can do is find meaningful, fun ways to fill these longer days. After all, it's the perfect opportunity to soak up the sunshine and get some fresh air. 
Here at Oakleigh, we truly understand how important it is to keep our memory care residents safe while also offering them an enriching senior living experience. That is why as the best senior housing near me, we suggest that you check out these ten great spring activities:
#1.) Go for a Nature Walk
Heading out into nature is extremely beneficial to older adults, but can have a positive and significant impact particularly on those with dementia. It is no secret that Michigan winters can be long and cold, leaving many older adults feeling cooped up for the duration of the season. On top of that, it can also leave some seniors feeling the implications of seasonal depression. 
By taking a simple nature walk, whether it be on our beautiful Oakleigh of Macomb grounds or by visiting a local park, you can do wonders to bolster the mental and physical health of your senior loved one. Nature provides a safe, grounding environment where they aren't overstimulated and can relax. Bird watch, take photos of flowers, or simply sit on a bench and talk for a little while. Either way, going for a nature walk is sure to lift your senior's spirits.
#2.) Plan a Picnic
Nothing brings people together like good food, and that includes going on a picnic. This is a great option if your senior loved one has limited mobility but still wants to spend time outside. Reserve a comfortable spot at the local park, such as a pavilion or designated picnic table if possible. Doing so will allow you to ensure that your lunch is private, which can help a senior with dementia feel more calm and less overwhelmed. Otherwise, try to plan for a day where the park might be less crowded but still active. 
Also, be sure to pack some of their favorite foods. Include items that are both nutritious and delicious. Don't forget to include plenty to drink, especially cold water in case the temperature gets a little too warm for your senior. If you need some advice on what to pack, don't hesitate to ask one of the incredible staff members at the senior housing near me.
#3.) Visit the Farmer's Market
Many older adults love heading out to local farmer's markets because it offers a fun environment to try new foods, pick up local crafts, and interact with those in the community. If you plan on taking your senior loved one to visit a farmer's market, there are a few things that you need to be mindful of. This is because spending time in public can sometimes be tricky for an older person with dementia as they can quickly become confused, disoriented, or overstimulated. 
Here are a few tips to try:
Visit the market during slower times, such as very early in the morning

Stick to open-air, outdoor markets

Go with your senior and another trusted adult who can help should any issues arise
Otherwise, the sky's the limit! Craft fairs, garage sales, and spring festivals are all other excellent events that your senior can attend safely.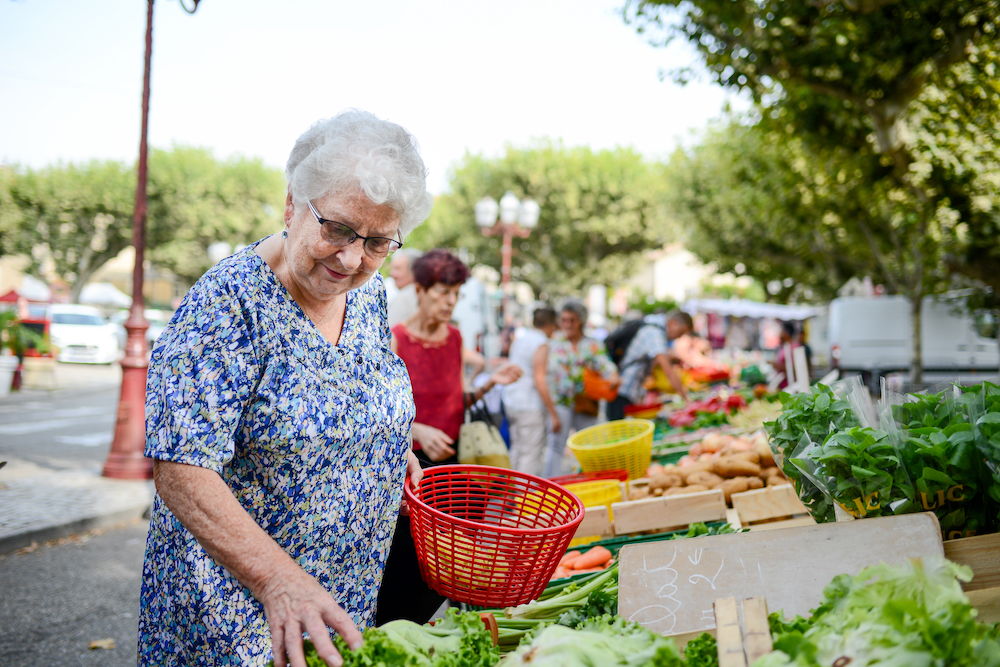 #4.) Create Spring Crafts
Participating in tactical, hands-on activities such as crafting is not only enjoyable for memory care residents, but it can also be therapeutic. There are so many different types of crafts out there that you are sure to find something your senior likes to do. The good news is that whatever they create doesn't have to be perfect or museum-worthy. This is all about having fun and making precious memories.
Check out this quick list of suggested spring crafts:
Painting pottery

Coloring books, especially

with young grandchildren

Making spring floral arrangements or door wreaths

Decorating flower pots

Scrapbooking

Making cards for loved ones
There are so many great options out there to choose from! For more suggestions and additional activities, be sure to check out the resident activity calendar at the senior housing near me. 
#5.) Attend a Family BBQ or Potluck
Socializing and staying connected with loved ones is extremely important for those living with dementia or Alzheimer's disease. They can quickly become isolated or feel left out, even without meaning to. Hosting a family barbeque or outdoor potluck can be a wonderful opportunity to bring your family together. Take lots of pictures, serve up some tasty food, and watch as your loved ones truly connect.
However, don't forget to provide a safe, quiet space where your senior can step away for a bit should they need it. This could be a bedroom inside or a den that isn't being occupied. Having this calm environment where they can briefly retreat is crucial should they become tired or overstimulated. Be sure to reiterate to other family members that this is a necessary element to hosting your senior loved one in a large group setting and to be respectful of their needs.
Oakleigh of Macomb: The Best Senior Housing Near Me
When a senior loved one has been diagnosed with Alzheimer's disease or dementia, it can be difficult information to process. You likely aren't sure what your next step is or what spending time with your senior might look like in the future. That is where a memory care community can help. 
Here at Oakleigh of Macomb, our staff is specifically trained in assisting seniors with cognitive decline. Our goal is to make every resident feel safe, loved, and welcomed in our community. We strive to curate an environment that allows them to feel right at home. By offering up a wealth of amenities and services, such as a diverse activity calendar, our residents are truly a part of a place where they can grow, thrive, and connect.To learn more about the best senior housing near me, contact us today to schedule a tour!