Summer means many things, including long days, high temperatures, and fun in the sun with family and friends. This is a great time to do the activities that you know and love, especially if you have grandchildren who are out of school for vacation. 
That being said, however, it is important to stay safe, especially in the face of the overwhelming heat. Here at the best assisted living in Michigan, we have a few safe yet engaging activities we think you should try this summer! 
1.) Bust Out the Family Photo Album
If the temps are a little too hot to head outdoors, or you have already been outside for several hours, come into the air conditioning and take a break! This would be a great opportunity to take the family photo album off the shelf or flip through the home videos of birthday parties and family reunions long past. Seniors and their children and/or grandchildren will surely enjoy this activity as they reminisce about fun times spent together. Plus, it will bring about feelings of nostalgia. 
2.) Try Out a Craft
One of the best activities that seniors can do is make crafts, as it is a form of art therapy. Art therapy provides a hands-on outlet that stimulates creativity and is also good for the brain. Additionally, it can be an excellent way to socialize with other residents at the best assisted living in Michigan. 
If there is a craft that you love to do, or one that you really want to try, the sky's the limit! Make necklaces or bracelets, sew or quilt a blanket, try out pottery or painting – there is no right or wrong answer, so long as you have fun doing it!
3.) Play Cards or a Board Game
If you are sitting out on the patio with nothing to do but soak up the sunshine, why not break out a board game or a deck of cards? These types of games are very good for brain health, as they keep the mind sharp and forces you to actively use critical thinking and reasoning. Scrabble, Monopoly, Risk, or chess or checkers are all great choices. Or, if you want to get up and about, try playing a yard game like cornhole or horseshoes. This provides ample opportunity to stimulate the brain, get out in the sun, and socialize with friends.
4.) Host a Movie Night
We all have that one classic film that we love more than anything. Maybe it's an action packed spaghetti Western or a period piece with drama and romance. If you haven't watched your favorite film in a while, take the time to host a movie night. Bonus points if you host folks who haven't seen it before. Make up all of your favorite snacks and settle in for a night of laughter (or tears, depending on the movie!).
If the weather is nice and you have the equipment to do so, haul out the projector and put the movie up on the side of the house or string a sheet from the clothesline. Enjoying a movie under the stars is sure to be a ton of fun, especially for young children. Just make sure you bring along the bug spray if you need it!
5.) Curl Up With a Good Book
There is a reason that this next stretch of weeks is often dubbed 'the dog days of summer'. When it gets this hot, it is hard to stay motivated, and you want to just laze around. Instead of flipping on the TV though, reach for a good book! Bring it with you to the poolside or curl up in a hammock. Reread one of your favorites or check out an exciting new release!
For seniors at the best assisted living in Michigan who have vision impairment, don't worry, you can still enjoy a good book! Thanks to technology such as digital assistants or even your cell phone, you can easily listen to millions of audiobooks read by professionals. Podcasts are also another excellent option.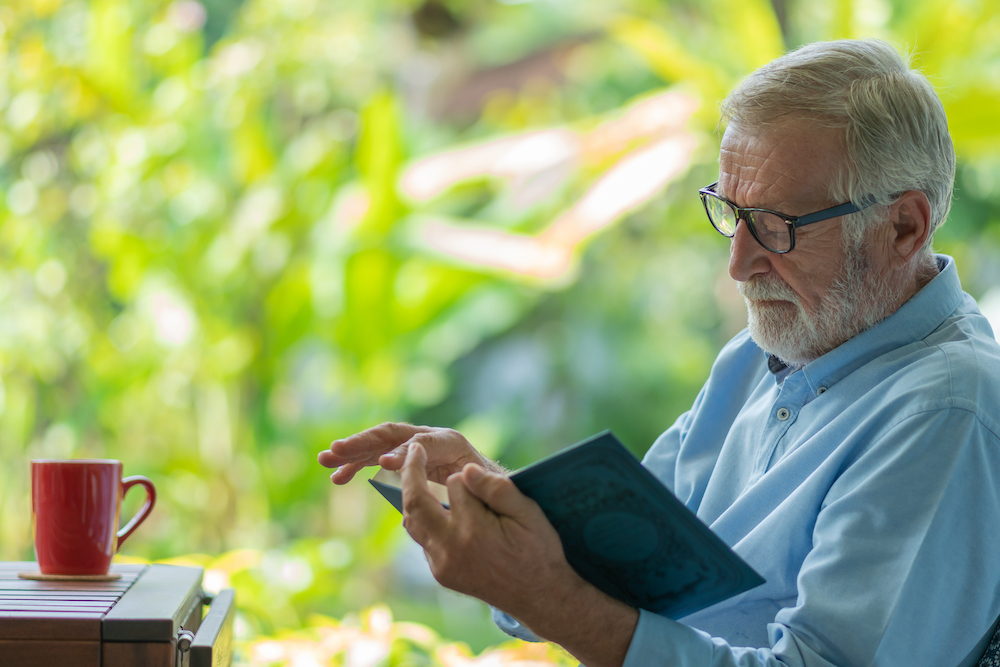 6.) Prepare a Light Summer Meal
Even though it's hot and humid outside, you can still enjoy whipping up a fresh and light summer meal. If cooking is one of your favorite activities, then don't miss out! Stop by the farmer's market and pick up some organic, locally grown fruits and vegetables to include in your next dish. Light pasta dishes made with white sauce, shrimp or seafood meals, and of course, a fresh garden salad all make for delicious and nutritious options. It will surely fill you up without being too heavy.
7.) Go for an Evening Walk
If the daytime proves to be a bit too warm, wait and take a nice walk in the evening. If you have a friend you enjoy going with, or maybe you're eager to take out your furry best friend, just make sure to wear comfortable shoes. Also, don't forget your water bottle! It is important to stay hydrated, especially for seniors. If you aren't walking with a friend and are going solo, make sure you take your cell phone with you in case of an emergency. 
Walking is very good for your health, as it is low impact, helps manage weight and diabetes, improves circulation, among other things! Here at the best assisted living in Michigan, you can join us for walking clubs as well. This will be a great way to meet new people and connect with other residents and staff members.
The Best Assisted Living in Michigan
Here at Oakleigh of Macomb, we are proud to offer our residents a wide array of fun and engaging life enrichment activities. We know and understand just how important it is that our seniors feel like they are living their golden years to the fullest. Learning new skills, forging lasting friendships, and having a great time is what senior living is all about!
If you are interested in learning more about the best assisted living in Michigan, feel free to contact us today! We would be happy to answer any questions you may have or help you to schedule a tour.